Album :: Rare Tracks
---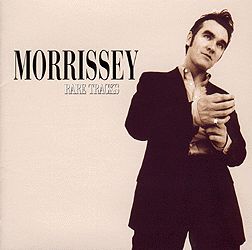 (April 1998)

Heir Apparent - Rare Tracks
I Can Have Both - Rare Tracks
Lost - Rare Tracks
Now I Am A Was - Rare Tracks
The Edges Are No Longer Parallel - Rare Tracks
This Is Not Your Country - Rare Tracks


1

6 items currently available.

Un mini-album comprendente tutte le 6 b-side dei singoli tratti dall'album "Maladjusted". La copertina mostra Morrissey in una foto scattata in una immagine per la stampa di qualche tempo prima.

This is a Japan-only mini-album compiling all 6 b-sides on the singles from the "Maladjusted" album. The artwork shows Morrissey in a photo taken from an earlier press photo.