Album :: Swords
---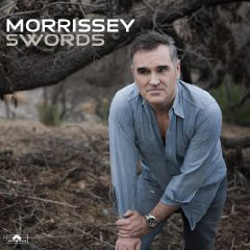 (October 2009)

Because Of My Poor Education - Swords
Children In Pieces - Swords
Christian Dior - Swords
Don't Make Fun Of Daddy's Voice - Swords
Ganglord - Swords
Good Looking Man About Town - Swords
I Knew I Was Next - Swords
If You Don't Like Me, Don't Look At Me - Swords
It's Hard To Walk Tall When You're Small - Swords
Munich Air Disaster 1958 - Swords
My Dearest Love - Swords
My Life Is A Succession Of People Saying Goodbye - Swords
Shame Is The Name - Swords
Sweetie Pie - Swords
Teenage Dad On His Estate - Swords
The Never Played Symphonies - Swords


1

16 items currently available.

L'album è una compilation di b-side dei singoli pubblicati da Morrissey, tratti dagli ultimi 3 album registrati in studio. Un'edizione limitata composta da 2 CD contiene 8 canzoni registrate dal vivo durante il concerto tenuto a Varsavia nel 2009. La nuova versione di "The Slum Mums" disponibile solo nell'edizione digitale dell'album differisce dall'originale per la sua introduzione, che tralascia il campionamento del pianto del bambino.

This album is a compilation of b-sides from singles lifted off Morrissey's last three studio albums. A limited edition 2-cd set features 8 songs recorded in Warsaw in 2009. The new edit of "The Slum Mums" only available on the digital edition of the album differs from the original b-side by its intro, which drops the crying child sample.