Album :: Bona Drag
---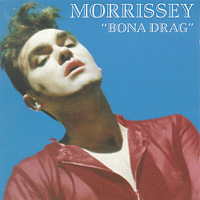 (Oct/Nov 1990)

Disappointed - Bona Drag
Everyday Is Like Sunday - Bona Drag
Hairdresser On Fire - Bona Drag
He Knows I'd Love To See Him - Bona Drag
Interesting Drug - Bona Drag
Lucky Lisp - Bona Drag
November Spawned A Monster - Bona Drag
Ouija Board, Ouija Board - Bona Drag
Piccadilly Palare - Bona Drag
Such A Little Thing Makes Such A Big Difference - Bona Drag
Suedehead - Bona Drag
The Last Of The Famous International Playboys - Bona Drag
Will Never Marry - Bona Drag
Yes, I Am Blind - Bona Drag


1

14 items currently available.

Bona Drag era stato inizialmente pensato come un nuovo album (Morrissey aveva una copertina giÓ pronta, poi adattata per "Live in Dallas"). Alcune tracce delle sessioni di Bona Drag vennero poi pubblicate come singoli e alla fine questa compilation che rimpiazzava l'album cancellato fu pubblicato nell'ottobre del 1990. Il titolo dell'album proviene dallo show radiofonico "Round The Horne" degli anni Sessanta. Vedi il commento a "Piccadilly Palare" per maggiori dettagli.

Bona Drag was originally intended to be a new album (indeed Morrissey had a sleeve design for it, which was subsequently adapted for "Live In Dallas"). Instead, some tracks from this abortive "Bona Drag" session were released in single form, and then a compilation that borrowed the cancelled album title was released in October 1990. The album's title comes from seminal radio show "Round The Horne". See "Picadilly Palare" for more details.