Album :: Rank
---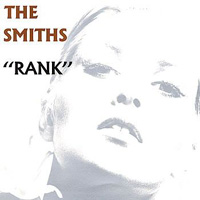 (September 1988)

Ask - Rank
Bigmouth Strikes Again - Rank
Cemetry Gates - Rank
I Know It's Over - Rank
Is It Really So Strange? - Rank
London - Rank
Panic - Rank
Rusholme Ruffians - Rank
Still Ill - Rank
The Boy With The Thorn In His Side - Rank
The Draize Train - Rank
The Queen Is Dead - Rank
Vicar In A Tutu - Rank
What She Said - Rank


1

14 items currently available.

Un album dal vivo pubblicato nel 1988. Con Craig Gannon alla seconda chitarra, probabilmente rappresenta gli Smiths al loro meglio dal vivo. Compilata dallo stesso Morrissey con l'approvazione di Johnny Marr, l'album è una selezione dal concerto al The National Ballroom, a Kilburn, Londra nell'ottobre del 1986. Inizialmente intitolato "The Smiths In Heat", Morrissey alla fine impose "Rank come in J. Arthur Rank", un riferimento al famoso magnate del cinema britannico ma anche, tipico dello spirito sovversivo del cantante, un eufemismo comune in inglese per masturbazione. L'album doveva contenere 'brani dal vivo inusuali' e 'versioni differenti delle canzoni' invece di una edizione pura e semplice della registrazione BBC del concerto al Kilburn National Ballroom.

A live album released in 1988. With Craig Gannon on a much-needed 2nd guitar, it probably catches The Smiths at their live best. Compiled by Morrissey himself, and approved by Johnny Marr, the album is a selection of the concert at The National Ballroom, Kilburn, in London, in October 1986. Originally titled "The Smiths In Heat", Morrissey eventually insisted on "Rank as in J Arthur", a reference to the British movie mogul but, typical of the singer's subversive wit, also a common English euphemism for masturbation. The album was supposed to include 'unusual live tracks' and 'different versions of the songs' rather than a straightforward edit of the BBC recording of the concert at the Kilburn National Ballroom.